"The regenerative properties of three natural stem cell extracts supercharge this exclusive formulation for thinning hair." - Skin & Beauty
Why Scalp Health Is So Vital To Thick, Full, Vibrant And Healthy Hair Growth
When your hair is thinning or damaged any kind of non-optimum scalp condition will impede healthy, full and vibrant growth.
However, creating and maintaining a scalp environment where thick full hair can thrive is easier than you may think with the Revitalization Kit!
Here are the vital elements for optimum scalp health:
Nourishment: . A healthy scalp ensures that the hair follicles receive proper nourishment and oxygen supply, which promotes the growth of strong and healthy hair.
Circulation: When blood flow to the scalp is optimal, it ensures that the hair follicles receive essential nutrients and oxygen, promoting hair growth as well as maintaining its overall health.
Oil Balance: The scalp produces natural oils called sebum, which moisturizes and protects the hair and scalp. Maintaining the right balance of sebum production will bring a natural luster and manageability to your hair.
pH Balance: The pH level of the scalp plays a significant role in maintaining its health. An imbalanced pH can lead to a dry, itchy scalp or conditions like dandruff, which can hinder hair growth.
Follicle Health: A clean and well-nourished scalp ensures that the hair follicles are free from clogged pores, debris, or excess oils, allowing hair to grow unobstructed.
Reduced Inflammation: An unhealthy scalp can be prone to inflammation, irritation, or infections, such as scalp dermatitis or fungal infections. These conditions can disrupt the hair growth cycle, leading to hair loss or thinning.
Minimized Breakage: A healthy scalp provides a nourishing environment for the hair, reducing breakage and ensuring the hair grows longer, stronger, and vibrant.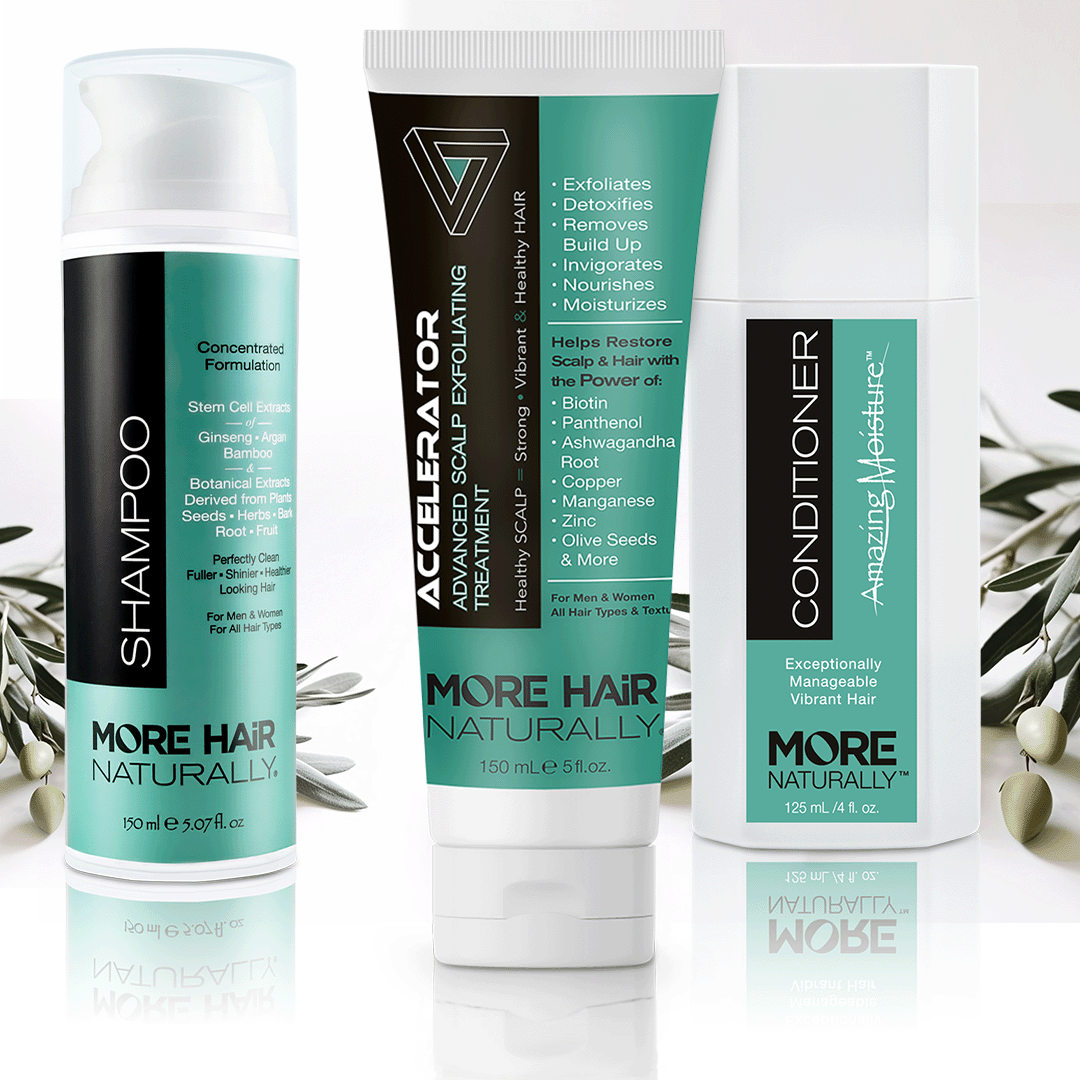 "The Best Hair Product I've Ever Tried..."
"I have only been using it a few weeks now, but I believe this may be the best hair product I've ever tried! My scalp feels the best it has ever felt and my hair looks Amazing!" - A.R. More Hair Naturally client
*These statements have not been evaluated by the Food andDrug Administration. This product is not intended to diagnose, treat, cure orprevent any disease.